Most people probably see residential and commercial painting as the same service. Painting is painting, no matter what or where you paint, right? Not necessarily. There are specific and important differences between the two.
What is the difference between residential painting and commercial painting?
1. Project Scale
Commercial projects have unique needs; high-reach, enter/exit procedures, identification badges, ventilation restrictions, insurance requirements, and deadlines.
2. Strict Completion Date
Commercial projects can be disruptive to workers, students, tenants, or residents. Commercial contractors deploy a team of tradesmen to complete the job on time and on budget.
3. Materials and Equipment
Residential painters specialize in small, often congested areas and for this reason, the materials that they use are similar to paint supplies you can get on your own; brushes, rollers, painting trays, step ladders, and drop cloths.
Conversely, commercial painting contractors must have the expertise to refinish more diverse surfaces that are found in that environment; wood, concrete, marble, metal, and reinforced plastic. These materials require commercial grade paint and special prep. They use pressure washers, sandblasters, paint sprayers, scaffolding, and aerial lifts to complete the job – safety first.
4. Insurance
Commercial buildings often include computers, data centers, indoor platings, sprinkler systems, and expensive furnishings that must be protected, and in worst care, replaced should an accident occur. Painting contractors who work in this environment must be fully insured against catastrophic events.
5. Project Management
Commercial property owners expect all parties involved to manage their time and resources to meet the deadline and stick to the budget. Great emphasis is placed on productivity and efficiency because of the importance of timeliness and avoiding business disruptions.
6. Experience
Commercial painting jobs may include acid etching and epoxy coating of loading docks and warehouse floors – maybe sanding, refinishing and slip-proofing food kitchens or wet areas. There are even areas that require extreme vapor prevention; libraries, computer rooms, or assisted living spaces. Experience teaches our estimators to identify these pinch points so there are no surprises for you.
7. Safety
Commercial and industrial job sites are dangerous work areas. A typical job has workers from many trades in a semi-chaotic environment, stepping over cords, pipes, and tools. Your team needs to be educated in close space ventilation, and OSHA certified. We are a preferred contractor for Owens Corning.
At Modern Painting and Coatings, we are third-generation, local-serving commercial and industrial painting contractors. When you call, you will speak with owner Jim Lough Sr or Jim Lough Jr. That's to the client loyalty and referrals, the business is sizable, but the personal attention is never lost. Call to discuss your commercial or industrial painting project.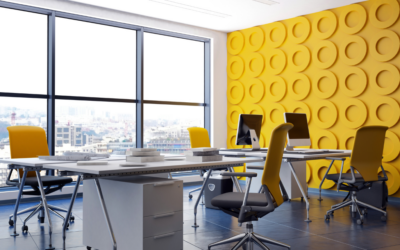 Suppose you're thinking about repainting your commercial office space. In that case, you've...