If your business is looking a bit drab these days, you might be wondering what the best solution is. Does your business need to be repainted or is there a way to get it looking great again without painting? Pressure washing might be the solution you're looking for.
Pressure washing cleans the exterior of your business and restores the look of siding, brick and even concrete. By removing mildew and mold, regular cleaning also works to maintain and extend the life of the exterior. You might be surprised to find that you don't actually need a paint job.
How to know it's time to repaint my business.
The fluctuating temperatures in Ohio, combined with our humidity and precipitation, wear on your business's exterior. Proper coating application also affects the durability of the paint. Is the surface porous, south-facing (high sun), dark and shady, or wet (mildew) conditions?
If applied by a pro, or with careful prep, commercial paint typically withstands the elements pretty well. Most surfaces "ugly-out" long before they "wear out".
Stucco / Synthetic
Wood
Aluminum
Painted Brick
Fiber cement
Vinyl
Something to consider: Paint acts as a layer of protection to the underlying material. With time and exposure to UV light, rain and temperature changes, this surface breaks down. It's important to address paint damage as it leaves the exterior of your business vulnerable to the elements.
When is it better to power wash my business?
The good news is, repainting isn't always necessary. Pressure washing or "power washing" can transform the look of your exterior. Plus, regular maintenance can actually help the paint job to last longer.
Your business will benefit from power washing if you see signs of:
Dirt and grime
Mold growth
Mildew
Pollen or tree material
Regular pressure washing is recommended, particularly for businesses that are;
surrounded by trees or those that face north get little direct sunlight
close to the road where they collect grime kicked up by passing traffic
next to construction sites that collect dirt and debris quickly
These are all good reasons to schedule professional power washing. Trying to spray the exterior with a regular garden hose is ineffective for this tough kind of buildup, and balancing on a ladder to do it can be dangerous.
People will often rent a power washer thinking it will be a quick and easy cleanup and may save them money in the long run. However, this can cause more damage to your building. Too much pressure from a power washer can remove the mortar between bricks or chip the paint from the surface. For this type of job, it's best to rely on a professional power washing crew.
Revamp your business's exterior and call the professionals.
The professionals at Modern Painting have the knowledge and skill to not only help you find the perfect color palette but to ensure your business is painted in a timely manner, with little disruption to your customers. Give us a call. Quotes are free.
More articles you may like…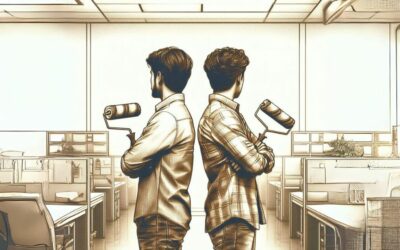 Once you've decided your business needs a fresh coat of paint, it's not as simple as choosing the...