Modern painting & coatings・columbus Oh
Our skilled team has deep cleaned for retail, business, industrial and property managers throughout central Ohio. From a vertical building wash to 500,000 sq ft commercial parking garage, we are well equipped.
Building Exterior Power Washing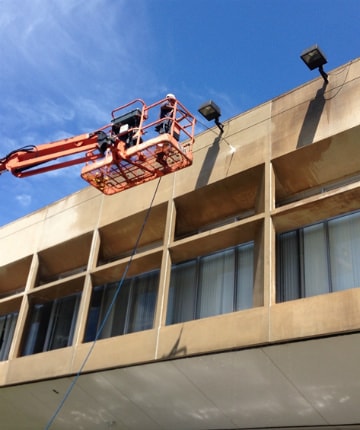 Exteriors attract mold, mildew, bird droppings, and acidic environmental fallout. Leaving your surfaces soiled can cause expensive damage. We use low pressure with high-flow or heat with low-flow in most cases to protect delicate surfaces.
High reach areas are typical in commercial power washing. We may use a boom crane or scissor lift. If needed, we can blast with baking soda, sand, shot or dry ice.
⁍   Concrete, Stucco, Metal, Brick
⁍   Drive-Thru Lane, Walkway, Loading Dock, Dumpster Area
⁍   Tractors, Construction Equipment
⁍   Inground Pool, Patio, Golf Cart
⁍   Preparation Prior to 
Paint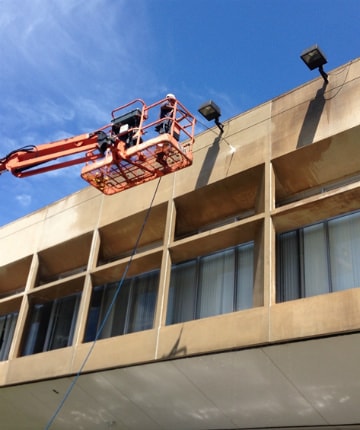 Parking Garage & Parking Lot Power Washing
Large pressure washing jobs are our specialty. If you have a pressure washing need for your parking garage, give us a call. We use heat, detergent, and the newest low-splash, spinning nozzles to achieve the desired results.
 Safety is a high priority. We are professionals with professional-grade equipment. Our self-contained trailers are set up to handle large washing projects. We regularly pressure wash parking lots for builders, business owners, industrial clients, and property management clients.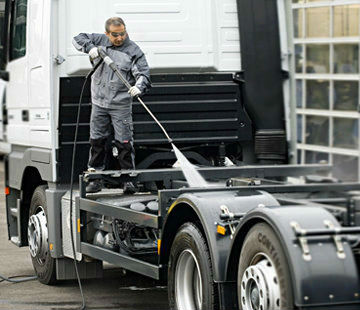 We use the most environmentally friendly solutions possible. Greasy soil is protein or petroleum grease based. If you've ever washed a grill pan after making bacon or washed your hands after working on an engine, you know that cold water and soap is ineffective. Now turn on the hot water. You need much less water and much less soap.
Our professional grade power washers can heat the water up to 250°F.  Since water boils at just 212°, anything above that produces pressurized steam that can cut through grease with very little run-off. Not just for grease, heat can be used to "melt" gum from sidewalks or clean areas that have sensitive vegetation nearby.