Modern painting & coatings・columbus Oh
We're dedicated to providing top-quality commercial power washing services that exceed your expectations. With years of experience and a team of skilled professionals, we will transform your commercial property into a clean and inviting space. Our skilled team has deep cleaned for retail, business, industrial and property managers throughout central Ohio. From a vertical building wash to a 500,000 sq ft commercial parking garage, we are well equipped.
Why should I choose Modern Painting for power washing?
We're glad you asked.
✔︎  Unmatched Expertise: Our team consists of highly trained and experienced power washing technicians who understand the unique requirements of commercial properties. We have the knowledge and skills to effectively remove stubborn dirt, grime, mold, and other unsightly contaminants from various surfaces.
✔︎  State-of-the-Art Equipment: We utilize advanced power washing equipment and eco-friendly cleaning solutions to deliver outstanding results. Our powerful equipment allows us to tackle even the toughest stains without causing any damage to your property.
✔︎  Comprehensive Services: From storefronts and parking lots to warehouses and industrial facilities, we offer a wide range of commercial power washing services. Whether you need regular maintenance or one-time deep cleaning, we've got you covered.
Our Commercial Power Washing Services: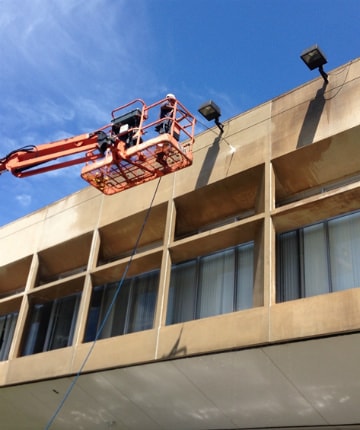 Building Exterior Power Washing:
The exterior of your commercial building creates the first impression for clients, customers, and employees. Our power-washing experts can revitalize your building's façade, removing dirt, grime, and pollutants to restore its original beauty.
Exteriors attract mold, mildew, bird droppings, and acidic environmental fallout. Leaving your surfaces soiled can cause expensive damage. We use low pressure with high-flow or heat with low-flow in most cases to protect delicate surfaces.
High-reach areas are typical in commercial power washing. We may use a boom crane or scissor lift. If needed, we can blast with baking soda, sand, shot, or dry ice.
⁍   Concrete, Stucco, Metal, Brick
⁍   Drive-Thru Lane, Walkway, Loading Dock, Dumpster Area
⁍   Tractors, Construction Equipment
⁍   Inground Pool, Patio, Golf Cart
⁍   Preparation Prior to 
Paint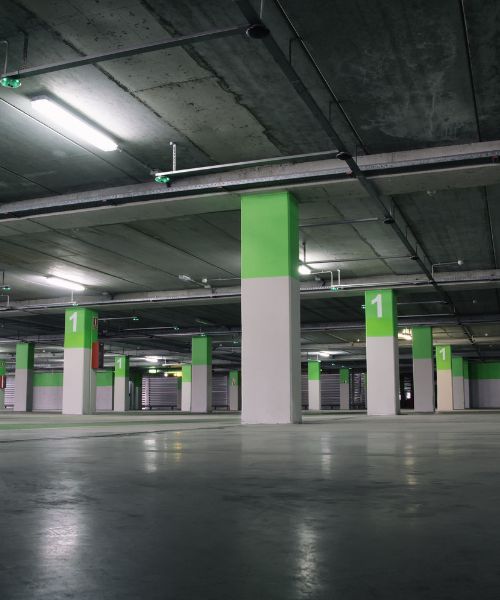 Concrete Power Washing
High-traffic areas like parking lots, driveways, and sidewalks are prone to dirt, oil stains, and chewing gum buildup. Our power washing techniques effectively eliminate these eyesores, making your surfaces look fresh and inviting. Large pressure washing jobs are our specialty. If you have a pressure washing need for your parking garage, give us a call. We use heat, detergent, and the newest low-splash, spinning nozzles to achieve the desired results.
By the way, we also refinish interior concrete as well.
 Safety is a high priority. We are professionals with professional-grade equipment. Our self-contained trailers are set up to handle large washing projects. We regularly pressure wash parking lots for builders, business owners, industrial clients, and property management clients.
Fleet Power Washing
If you own a fleet of vehicles, maintaining a clean and professional appearance is crucial. Our friendly team specializes in power washing commercial trucks, vans, trailers, and other vehicles, ensuring they look their best and make a lasting impression on the road.
Our expert technicians use state-of-the-art equipment and eco-friendly cleaning solutions to remove dirt, grime, and road debris, leaving your trucks looking fresh and professional. From tractor-trailers to delivery vans, we handle it all. Say goodbye to dull and dingy trucks and hello to a fleet that turns heads wherever it goes.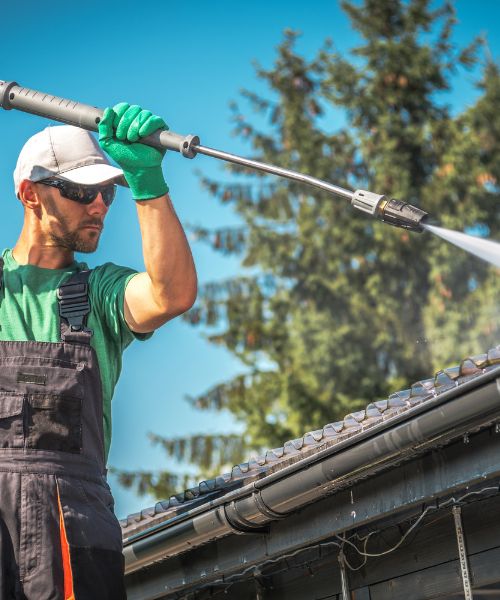 Roof Power Washing
Over time, roofs can accumulate moss, algae, and debris, which not only affect their appearance but also compromise their longevity. Our power washing techniques gently remove these contaminants, extending the life of your roof and improving its curb appeal.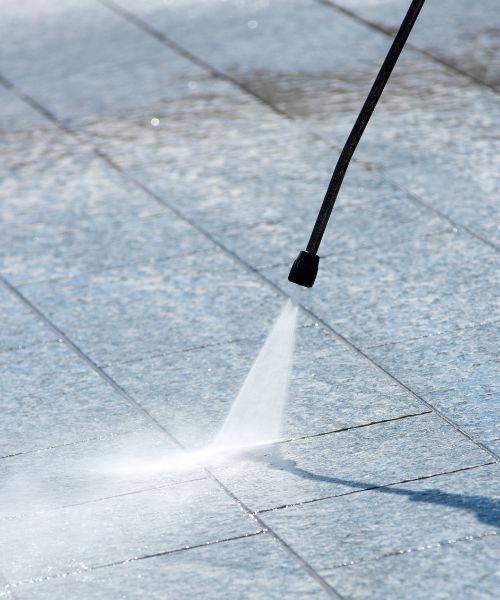 Hot Water Power Washing
We use the most environmentally friendly solutions possible. If you've ever washed a grill pan after making bacon or washed your hands after working on an engine, you know that cold water and soap are ineffective. Now turn on the hot water. You need much less water and much less soap.
Our professional-grade power washers can heat the water up to 250°F.  Since water boils at just 212°, anything above that produces pressurized steam that can cut through grease with minimal run-off. Not just for grease, heat can be used to "melt" gum from sidewalks or clean areas that have sensitive vegetation nearby.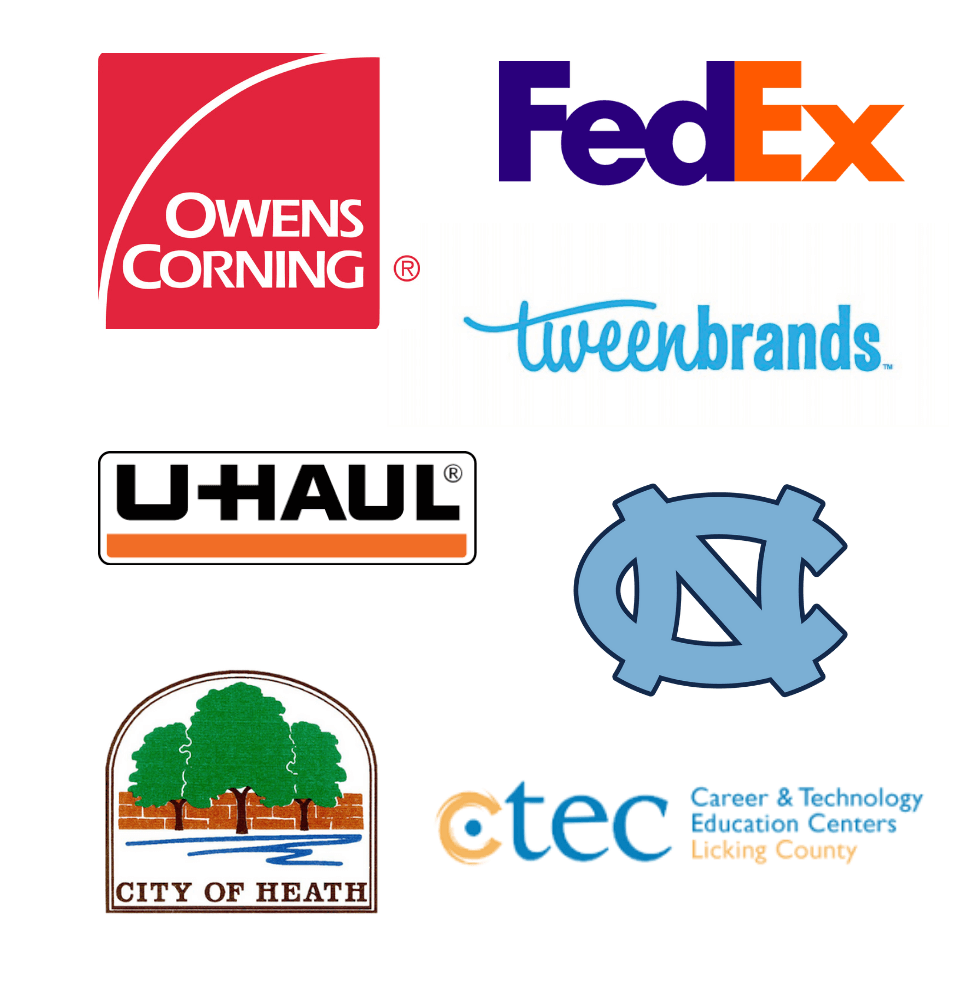 Our Power Washing Difference:
Attention to Detail: We understand that every commercial property is unique, and we tailor our services to meet your specific needs. Our team pays meticulous attention to detail, ensuring that every corner is thoroughly cleaned, leaving no room for compromise.
Timely and Reliable: We value your time and business. We strive to complete every project promptly and efficiently while maintaining the highest quality standards. You can count on us to arrive on schedule and deliver exceptional results within your desired timeframe.
Safety experts: Safety is a high priority. We are professionals with professional-grade equipment. Our self-contained trailers are set up to handle large washing projects. We regularly pressure wash parking lots for builders, business owners, industrial clients, and property management clients.
Customer Satisfaction: Your satisfaction is our utmost priority. We believe in building long-lasting relationships with our clients through exceptional service and transparent communication. We go the extra mile to ensure that you are delighted with the results.
Don't let dirt and grime dull the appearance of your commercial property. Our friendly and knowledgeable team is ready to assist you. Contact us today to schedule a consultation.