Modern painting & coatings・columbus Oh
We're your top choice for industrial painting services in Columbus, Ohio. With more than 40 years of experience in the industry, we take pride in delivering exceptional painting solutions for industrial facilities, businesses, and warehouses throughout Columbus and its surrounding areas.
We understand that your industrial facility's appearance plays a vital role in your business's success. We're committed to providing the highest quality industrial painting services to meet your specific needs, all while ensuring that your facility looks its best.
Top Rated Industrial Painting in Columbus
When you hire Modern Painting & Coatings for your industrial painting project, you get a streamlined experience from the first contact to the final walk-through. We use our own employees, not subcontractors. Every member of our team is extensively trained to ensure that everything is as hassle-free and as safe as possible. Your satisfaction with the job that we do is what really matters to us.
We provide a range of services throughout Columbus to address your corrosion protection & safety requirements including power washing, tank coating, blasting (sand, shot, soda, dry ice), lead & asbestos abatement, waterproofing, and concrete coating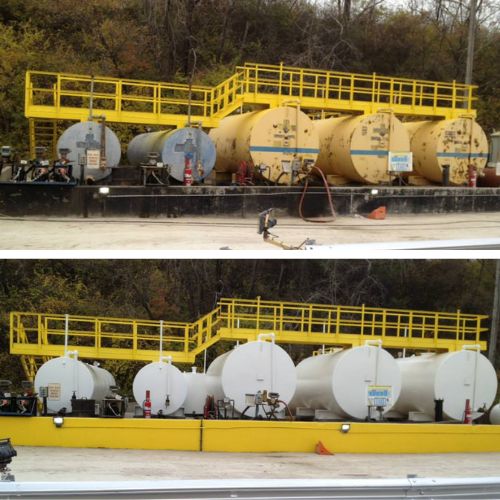 Our Industrial Painting Services:
Surface Preparation: We excel in surface preparation, ensuring that your industrial facility's surfaces are ready for painting. Our team follows industry standards to make sure the paint adheres properly, enhancing durability and finish.
Specialized Coatings: We offer a wide range of specialized coatings suitable for various industrial applications, including epoxy coatings, anti-corrosion coatings, and more. Our expertise ensures long-lasting results.
Painting and Finishing: Our professional painters are well-trained and equipped to handle the toughest industrial painting jobs. We take care of every detail, ensuring a smooth and flawless finish.
Safety and Compliance: As a long-standing, preferred contractor of Owens Corning, we know safety. We prioritize safety and compliance with all relevant regulations. Our experience, certifications, continuing education, and specialized equipment allow us to return your critical equipment in hours or days instead of weeks. In many cases, you can continue running your operations while our services are in progress.

Quality
Since 1980, our experience with a broad array of industries enables us to deliver the highest quality industrial coating solutions.

Safety
We meet or exceed standards protecting the environment and our workers with proper safety infrastructure.

Efficiency
We are recognized, and proud, of our on-time turnarounds to help you meet your project deadlines.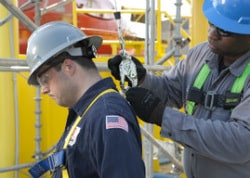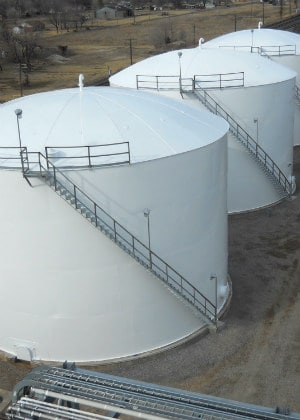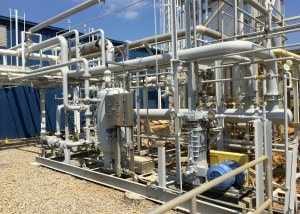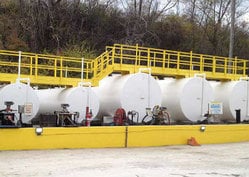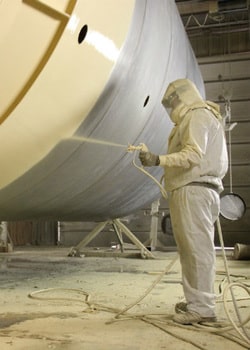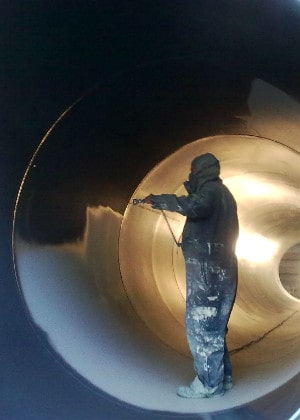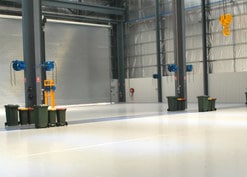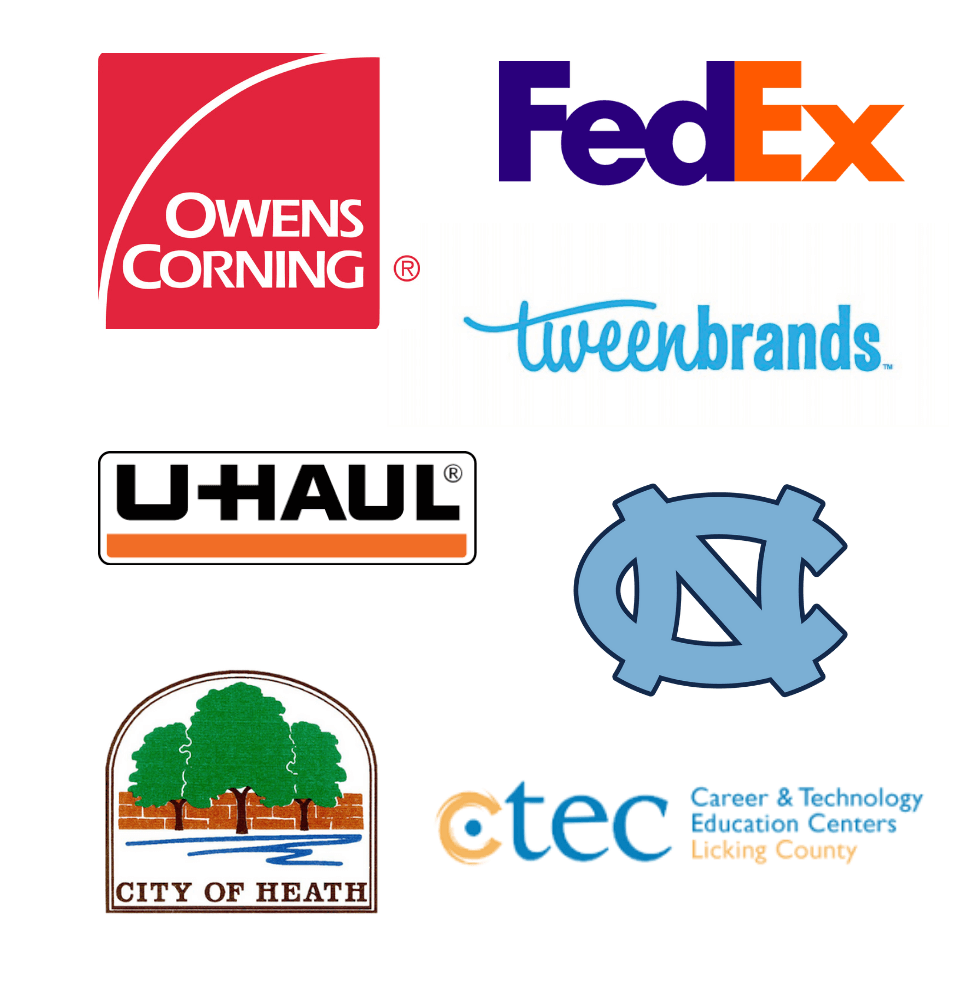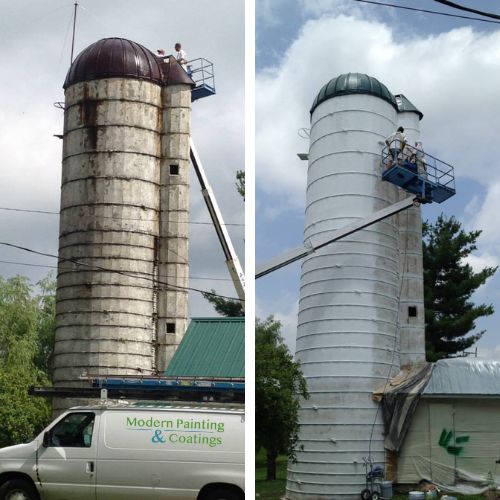 Industrial Painting: Our Process
You'll hear from one of our Industrial Painting experts shortly after you get in touch with us. We'll make sure we know exactly what you want from the painting job well in advance to ensure that everything works as smoothly as possible.
When we visit your Columbus business site, we'll discuss with you some of the most important factors, including:
The space available to work with
Materials that will be used for the job
All surface materials where paints and finishes will be used
The timeline for completing the work
A budget that works for your needs
How to best accomplish the task without disrupting work
When we provide you with a proposal, you'll know exactly what we intend to do with no detail left untouched. We'll make sure you're happy before we start any work so we can do the best job for your needs. After all, our total success with the job depends on your satisfaction, and we'll go above and beyond if necessary, to ensure that you're happy.
Why is industrial painting important?
Industrial painting provides essential protection to surfaces against corrosion, rust, chemicals, and other damaging elements, which can help extend the lifespan of equipment, structures, and infrastructure.
Secondly, it improves the overall appearance and aesthetics of industrial facilities, creating a positive impression on employees, clients, and visitors. Additionally, industrial painting helps meet regulatory requirements, ensures safety by indicating hazard zones or safety markings, and can contribute to better maintenance and operational efficiency.
What types of surfaces can be painted in an industrial setting?
A wide range of surfaces can be painted in an industrial setting. This includes metal surfaces such as steel structures, machinery, pipelines, and storage tanks. Concrete surfaces like floors, walls, and pillars can also be painted. Additionally, industrial painting can be applied to various other materials like wood, plastic, fiberglass, and composites, depending on the specific needs of the industry and the surface's exposure to environmental factors or wear and tear.
How long does industrial paint last?
The longevity of industrial paint can vary depending on several factors, including the type of paint used, the quality of surface preparation, environmental conditions, and the level of wear and tear. Generally, industrial paint is designed to be durable and long-lasting, with a lifespan ranging from 5 to 20 years or more. However, regular maintenance, inspection, and touch-ups may be necessary to ensure the paint's continued effectiveness and protection over time.
What are the different types of industrial paint?
There are various types of industrial paint available, each designed for specific applications and surface requirements. Some common types include:
Epoxy Paint: Known for its durability and chemical resistance, epoxy paint is often used on concrete floors, metal surfaces, and in areas where high-performance coatings are needed.
Polyurethane Paint: This type of paint provides excellent resistance to abrasion, chemicals, and UV rays. It is commonly used for surfaces exposed to harsh outdoor conditions or in environments where high durability is essential.
Alkyd Paint: Alkyd paint is oil-based and offers good adhesion and resistance to moisture, making it suitable for metal surfaces and machinery.
Acrylic Paint: Acrylic paint is water-based, quick-drying, and offers good durability and flexibility. It is commonly used for various industrial applications, including metal surfaces, machinery, and structures.
High-temperature Paint: This type of paint is designed to withstand extreme heat, making it suitable for surfaces like boilers, chimneys, and exhaust systems.
Zinc-Rich Paint: Zinc-rich paint contains a high concentration of zinc, providing excellent corrosion protection. It is often used on steel structures, bridges, and offshore equipment.
Anticorrosive Paint: Anticorrosive paint is specifically formulated to protect metal surfaces from corrosion, typically through the use of specialized additives or rust inhibitors.
These are just a few examples of the many types of industrial paint available. The choice of paint depends on factors such as the surface material, intended use, environmental conditions, and desired performance characteristics.
Does existing paint need to be removed before applying new industrial paint?
The decision to remove existing paint before applying new industrial paint depends on various factors such as the condition of the existing paint, the compatibility of the new paint with the old paint, and surface preparation requirements. In some cases, removing the existing paint through methods like blasting or stripping may be necessary to ensure proper adhesion and a high-quality finish. A thorough evaluation of the surface and consultation with our painting experts is recommended to determine the most suitable approach.
What maintenance is required after industrial painting?
After industrial painting, regular maintenance is typically required to ensure the longevity and performance of the coating. This may include periodic inspections, cleaning, touch-ups, and reapplication of protective coatings as needed, based on the specific requirements and conditions of the painted surfaces.
Are there any specific regulations or standards for industrial painting?