Blasting built-up gunk off surfaces is satisfying, but sometimes pressure washing is a job best left to the pros, especially in a commercial setting.
Cleaning your business with a pressure washer can offer instant gratification. In a single afternoon, you can remove years worth of built-up dirt and grime, breathing new life into your business's exterior. While some pressure washing jobs are small, and easy enough for handy business owners to tackle, like a short walkway, others should only be attempted by the pros.
Should I Rent a Pressure Washer or Hire a Pro?
You should first ask yourself if it makes more sense to outsource the job to a pro.
Are there high-reach areas?
Do I need to use detergent – what type?
Can I protect the landscape and storm drains from detergent runoff?
Can you protect electrical boxes from moisture?
Am I experienced enough not to "carve" the cleaning surface?
Can you remove gum from your walkways without damaging the concrete?
When should you use super-heated hot water or steam?
If you find yourself Googling the answers to any of these questions, it's best to hire a professional.
At Modern Painting & Coatings, we have a team experienced with pressure washing all types of surfaces. We'll send someone out quickly to assess the areas, provide you with a free quote and get to work asap, so you can sit back, relax, and enjoy the outstanding results.
When Should I Hire a Professional?
Pressure washing a commercial property has liabilities associated with it for the DIYer. An inexperienced operator can damage the surface, electrical connections, and downstream plantings. Maybe the cleaning job could be more efficiently cleaned using dry blasting.
If you have to rent, consider the cost ($50 – $100 day), travel time, your time, and potential workers' liability from eye/skin back splashing, heavy lifting, or ladder mishaps.
Is It Worth It?
We see this a lot in commercial painting. People think "I'll buy the paint myself and dedicate my time to save money", but I can't tell you how many calls we receive from frustrated business owners at their wit's end, asking us to send someone to either finish the job or even redo it completely. The truth is, it's a lot of time, patience and skill that not everyone is willing or able to handle themselves.
Should I Buy a Pressure Washer?
If you are going to buy a unit, consider the benefits of gasoline versus electric, and whether you'll be able to afford a big enough unit to tackle all of your projects. If you need to clean greasy areas (food service floors, dumpster areas, auto garage walls and floors, mechanics areas, etc) using hot or steam can clean with a little detergent and much less water. Think of washing a breakfast or dinner plate and the difference that heat makes.
Power washers that heat the water also need a burner. That will more than double the purchase price. Just like any piece of machinery, not all power washers are created equal, and you usually get what you pay for. With that in mind, the last thing you want to do is purchase a smaller unit that meets your budget but fails to be heavy-duty enough to meet all of your cleaning needs.
If this all has your mind swimming already, give us a call. We'll perform your commercial pressure washing project quickly and on budget so you can move on to other things, like running your business.
More articles you may like…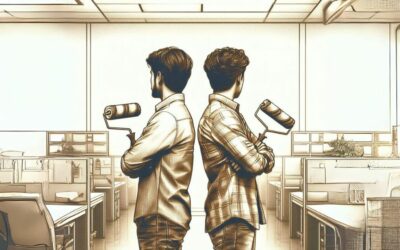 Once you've decided your business needs a fresh coat of paint, it's not as simple as choosing the...