Variations in Ohio weather can greatly impact the quality of a paint job, particularly exterior surfaces. In this article, we'll discuss the ways weather affects paint application and the best months to tackle indoor and exterior paint jobs.
How does the weather affect paint application?
Humidity:
When the temperature of a surface fluctuates quickly – direct sunlight to shadows- the surface may form moisture which is not ideal. It's best to recoat between 40 – 70 percent humidity.
Temperature:
Paint thickens in low ambient temperatures, which means if it's cold enough, the paint drying process slows way down. We have paint additives and special formulations to lessen the effect of temperature extremes.
When temperatures are hot, the paint dries too quickly, threatening the leveling process. This can cause visible brush, roller, and spray marks.
Wind:
Paint requires time to cure, but if you're painting in the wind, instead of getting a slow and steady dry over a 24-hour period, the paint dries too fast and may not properly level or adhere to the surface.
Our focus is on quality outcomes – we want the paint to look superb and last for a long time. In order for that to happen, we keep a close eye on heat, humidity, wind, and rain, so you'll always be satisfied with the outcome.
Can I paint my business in the fall and winter months?
PAINTING IN THE FALL:
Interior – If it is a repaint or remodeling job in a temperature-controlled space, there are no concerns. You may want to consider the occupancy of the area during the project. We use low – zero VOC paints and low odor paints to minimize concerns.
If your space is not temperature controlled (new construction), and the project specifies an oil- or solvent-based paint, optimal temps are between 50℉ and 85℉ and well ventilated.
Exterior – There is a window of opportunity for commercial building exterior painting in the fall, which runs from September through October. Columbus temperatures are perfect, with the average low hitting 50℉ and the highs never exceeding the recommended temperature for paint application. With the temperature in the sweet spot during these months, you can expect amazing results.
Furthermore, there is significantly less rain during the fall, which means you have a better chance of bypassing any rain-caused delays.
PAINTING IN THE WINTER:
Interior – When the harsh winter weather prohibits outdoor painting projects, commercial building owners tackle their indoor painting needs, from touch-ups to complete color makeovers. Winter is a great time to take a look at your current paint and choose which areas could use a new coat.
Take full advantage of contractors' availability during the slower winter months. Our crew is ready to tackle your indoor painting project. We use zero- to low-VOC paints, which means you don't have to open the windows and air out the fumes.
Exterior – Planning is the key to success in an exterior painting project on a commercial building during the winter. The majority of paints can't be applied to surfaces below 35℉ which means projects have to be planned around the forecast. So don't wait to schedule. Give us a call today and tackle your commercial exterior painting project before the real cold hits.
If you have more questions, contact us. We're Columbus's go-to painting contractor for interior and exterior work and we can help you with our projects throughout the year.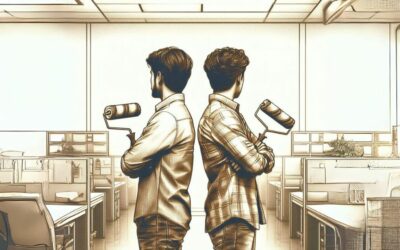 Once you've decided your business needs a fresh coat of paint, it's not as simple as choosing the...