For building owners and managers, the task of having your building painted can seem overwhelming. If you are starting fresh and have no relationship with a painting contractor, you may feel unprepared.
This article will cover:
What information do you need to gather before your meeting?
How to know if you are getting a good bid.
How to compare several estimates.
Set your performance expectations.
You can avoid headaches by clearly agreeing to your project completion date expectation, start/stop hours, access routes for workers to enter/exit your facility, water and trash room access, permanent fixtures which may limit the use of high reach painting equipment, and any noise level limitations.
According to the Better Business Bureau, the most frequent cause of client dissatisfaction is unmet expectations. Voice your expectations. Have the vendor agree and sign off on your expectations.
For B2B (business-to-business) companies, don't let reviews steer the ship…just let them sit on the bow.
For many on the journey to hiring a new contractor, the first step is to research a company's reviews and customer satisfaction. While this can be a great indicator of a business's practices, reviews shouldn't always be taken at face value.
Very few people are willing to leave a personal review for a business transaction that occurred for their employer.
So, don't let a company's lack of reviews deter you. No bad reviews can be just as good as several good ones.
The sad fact is that people are more likely to leave a review about a bad experience than a good one. Think about it, how many times have you gone to a restaurant and you really liked the food, you had great service and you left happy. Did you jump online to leave a positive review? Maybe…but probably not. What about a horrible restaurant experience? Bad food, rude waiters, etc. Chances are, you thought about letting the world know about the awful experience. It's the same across the board.
You can tell a lot from a company's website.
Look for companies that have professional websites and clear photos of projects to help you see the scope of the painting work each one does. Make sure that they are fully licensed and insured. Professional painting contractors should have a statement of their safe painting practices, which includes OSHA training, minimization of VOCs, and the state standards they uphold.
At Modern Painting, we put high priority on our employee's education and safety practices. Read more about our safety practices here.
Review the company's professional qualifications, associations, and designations.
The painting company you choose should also provide a warranty on their completed work. We recommend you receive a written warranty from your painting contractor before the painting work begins.
How Do I Book a Painting Estimate?
Commercial painting companies can take bookings for estimates in a number of ways. Some of the most common are scheduling online through their website, by phone, or by email. You should receive a call or email confirming they received your scheduling request. The company may ask some preliminary questions about your painting project in this conversation, so they can better serve you.
Look for red flags during your walk-through estimate.
During your appointment, the painting foreman or estimator should be respectful of your time and arrive on time. If they show up late, that's a bad sign. If they can't respect your time before they even have your business, this is usually a clear indicator of the lack of respect you'll receive once they have a down payment. Would you show up late for a job interview? Probably not.
Expect the estimator to look and act professionally throughout the estimate process; if not, this should raise another red flag. A professional appearance speaks volumes about a company.
During this conversation, a good estimator will lead the conversation by asking questions that will help their team to understand your project vision and address any concerns you may have.
They should bring their own equipment to take measurements and gather all the information they need in order to give you an accurate quote.
Bottom line, you should leave the consultation with a sense of who they are as a company, how they will conduct business with you, and how you will be treated throughout the process.
What Should a Painting Quote Include?
Within the next few business days, the estimator should provide you with a full estimate which will include a detailed explanation and breakdown of project costs. There should be no surprises or hidden charges outside of what was discussed during your consultation and what is shown in the bid. For larger projects, a painting company may schedule a separate appointment with you to go over the details of the estimate, especially if there are important additional details to cover.
Yes, you can negotiate, within reason.
Once you have agreed on the scope of the project, you may want to negotiate a price.
Some professional painters may discount their quotes, but your expectations should follow the cheaper price. The contractor may need to find profitability by using less expensive paint or fewer workers on your job.
A rule of thumb; interview three companies, then throw away the cheapest bid.
Finally, here is our pitch.
Here at Modern Painting and Coatings, we are a third generation, family-run business. We value safety, timelines, and work well with other contractors to get your project finished on-time and on-budget. Many of our team have been here their entire career. We need them to come home safely to their families.
We invest in the best, and safest equipment to complete your project perfectly. If we want to prosper in the next 35 years, we need you to be 100% satisfied.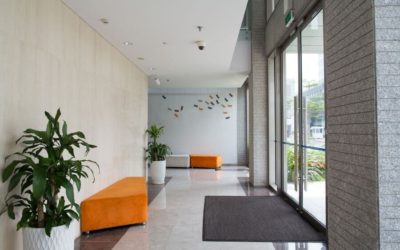 We all know first impressions are everything. This holds especially true for businesses. What...