Modern painting & coatings・columbus Oh
Columbus Sandblasting Services
Want your business to look its best? Rely on the experts at Modern Painting & Coatings for professional sandblasting services throughout the greater Columbus areas. Our team has more than 40 years of experience and a long track record of successful sandblasting projects.
Safety is equally as important as results.
We employ rigorous safety standards, extremely thorough technician training, and state-of-the-art equipment to meet client project goals while ensuring the safety of the crew, nearby personnel, and the work environment. We are very meticulous about preparation and clean-up. We are hazmat certified to collect and dispose of volatile waste when needed.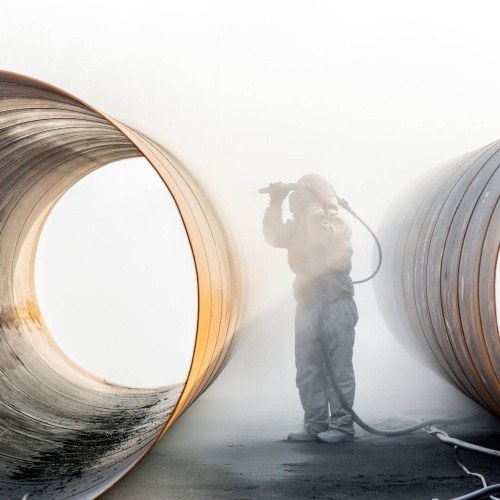 We work seamlessly with minimal disruption.
As a Modern Painting customer, you can rely on us to complete your sandblasting projects safely, with minimal disruption, and excellent, long-lasting results. Our field team travels to complete projects on-site. When you need sandblasting/abrasive blasting (sand, shot, soda, dry ice) or painting services for permanent installations or structures, our mobile crew will travel throughout Central Ohio and get to work.
We will determine which types of blasting media, paints, primers, and coatings will yield the best results. Whether you need to sandblast and coat a structure, degrease equipment, or remove stains from concrete floors, we bring the solutions to your door.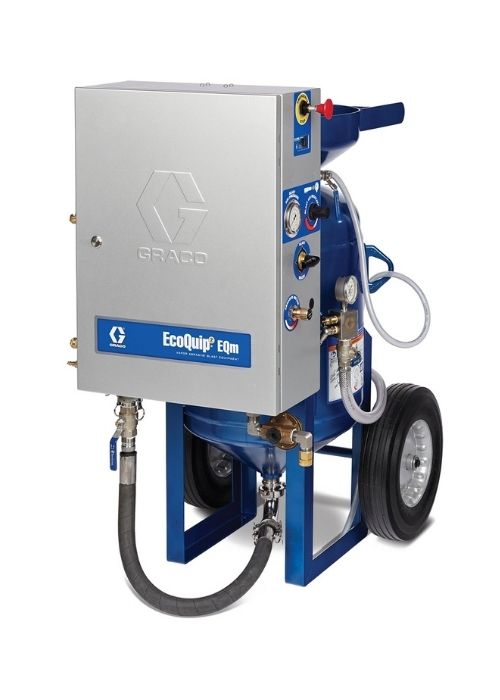 Sandblasting: Your business is our business.
You don't want our team getting in the way, making a mess, driving away customers, or irritating employees. We get that. That's why our extensive training programs guarantee you professional sandblasters who are trained to minimize time and maximize efficiency.
We instill in our employees the importance of being courteous and respectful not just to our clients, but to yours as well, and our sandblasting equipment helps to reduce dust and mess in your business.
We use a Graco Eco Blaster to ensure the highest quality results and less mess.
Generates less dust – 92% less airborne dust than dry blasting
Uses less water than traditional water-based wet blasting
Optimizes air, water, and media ratio – resulting in a fine mist with a blast that is powerful, but with less dust
Uses less media than wet blasting, so clean-up is minimal and you save on media costs
Bottom line: we don't let sandblasting get in your way. Our commercial sandblasting services will never slow your business down.
What is Soda Blasting?
Soda blasting is a method of removing surface contaminants and coatings by "blasting" sodium bicarbonate (baking soda) at a high rate of speed from a machine to remove contaminants and coatings.
Compressed air from blasting machines projects these particles against the surface to be cleaned. Not only is Sodium bicarbonate a non-hazardous and environmentally safe blast media, but it's also water-soluble and provides an easy cleaning and stripping process to remove existing coatings efficiently without damaging some of the most delicate substrates.
In the abrasive media industry, "hardness" is measured by using the Mohs scale, which is a rough measure of the resistance of a smooth surface to scratching or abrasion. The relative Mohs hardness of sodium bicarbonate is 2.5, making it one of the more soft abrasives.
Sandblasting Services Offered:
⁍    Graffiti removal
⁍    Pipeline linings
⁍    Pipeline Maintenance
⁍    Lead Abatement
⁍    Plural component applications
⁍    Corrocote linings
⁍    Equipment restoration
⁍    Specialty coatings